| | |
| --- | --- |
| Type-A (with Basic equipment & furniture)/9 sqm Wide 3m x Depth 3m |  JPY 310,000 (Tax excluded) |
| Type-B (with Basic equipment & furniture) /6 sqm Wide 3m x Depth 2m | JPY 250,000 (Tax excluded) |
Package contents (Type-A / Type-B)
System wall panels 
LED spotlight (15W) x2
Sockets (can be used up to 100V / 800W) x 1
Company name and booth  number display x 1
Electric wiring power & electricity usage (up to 1 kW)
*Floor carpet is NOT included.
* Only one company name and booth number is included, regardless of booth size. Please order separately if you need additional ones.
* No reduction or refund will be made if all or part of the furniture in the booth are not required.
* Depending on the time of application, there is a possibility that the requested plan or location may not be available.
For effective participation
The biggest feature of the exhibition is that a large number of purposeful visitors from various regions come together in a short period of time.

Make your participation a success through promotional activities before and during the exhibition.
Display of actual machine
Many exhibitors who achieved great promotional results cited the "exhibition of actual equipment" as an important reason for their success. Here at this display area, exhibitors can display their physical products, models and components where visitors can see in close proximity.
Exhibitor presentation
Apart from the exhibition, a dedicated presentation area will be set for exhibitors to present their latest products and technologies.
Promotion tool guide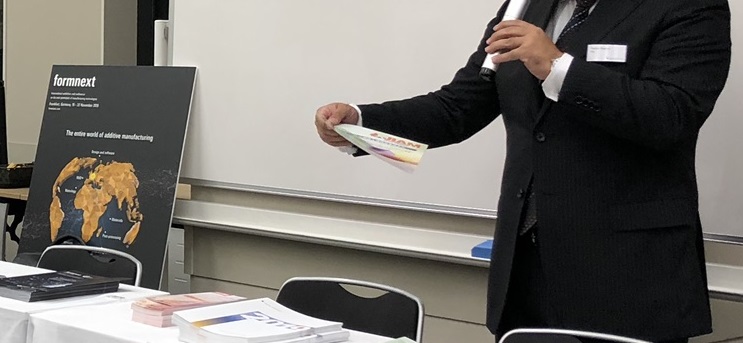 Promotional tools enable you to share your company profile with visitors in advance, during and after the event to increase your promotion. In order to maximise your participation in Formnext Forum Tokyo 2023, the advertising and sponsorship package should play an integral part in your pre- and post-event marketing and communication strategy.
*Promotion tool guide is not available now. We will inform you as soon as we are ready.

Visitor promotion activities by organisers
A wide range of activities to attract visitors

In order to create more business opportunities for exhibitors, we conduct a wide and continuous campaign to attract visitors.
Direct mail / mail delivery by the organiser
Free distribution of invitations to exhibitors
Attract visitors through related industry groups
PR to industry press
PR through the official website of the exhibition